J. Hunter Craft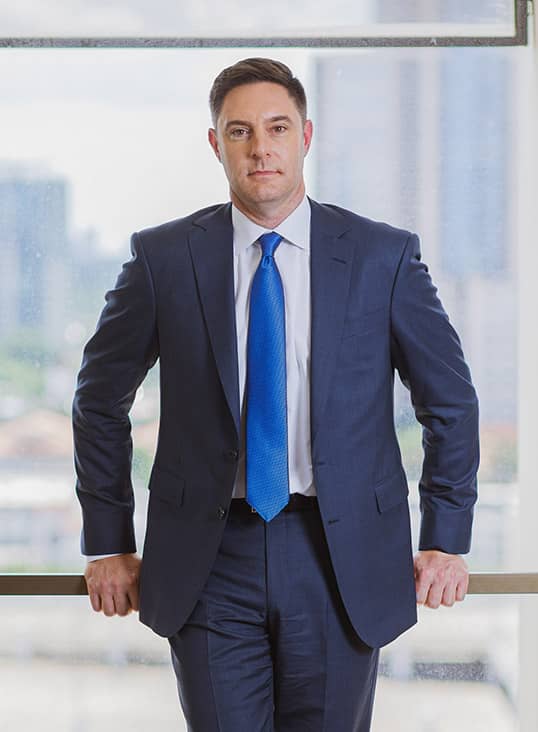 Hunter Craft graduated as the Casey Presidential Scholar from Baylor University with a B.B.A. in Finance, and earned his Doctor of Jurisprudence from Baylor University School of Law. He began his legal career in litigation defense of business and catastrophic injury disputes at Fulbright & Jaworski, L.L.P. (now Norton Rose Fulbright LLP). He then refocused his career to advocate for those harmed by others, joining Watts Law Firm, later becoming Watts Guerra Craft. In 2013, after nearly 14 years in the legal profession, he founded Craft Law Firm, P.C., and continues to represent victims of catastrophic injuries and wrongful death. He has litigated on behalf of clients in more than 30 states in cases against more than 50 different Fortune 500 and Global 500 companies.
Focusing primarily on transportation and trucking, workplace, product liability, and other catastrophic injury litigation, Mr. Craft has represented victims against large corporate defendants including Alcoa, Arkos, Autoliv, Axip Energy, BF Goodrich, BMW, Bridgestone/Firestone, Chrysler, Chubb, Coastal Corporation, Continental Tire, Cooper Tire, Cummins, Daewoo Motors, Discount Tire, Dorel Juvenile Products, Ford, General Electric, General Motors, Gilbane, Goodyear, Hilcorp Energy, Home Depot, Honda, International Truck & Engine, Isuzu, Land Rover, Mattel, Mazda, Michelin, Mitsubishi, Newmar Corporation, Nissan, Pioneer,  Schlumberger, Tire Rack, Titan Tire, Toyota, Trican, TRW, TXU, Union Pacific, Volkswagen, Williams, Witco/Chemtura, and Yokohama Tires, among others.
Mr. Craft has twice been named the Best Lawyers® Personal Injury Litigation – Plaintiffs "Lawyer of the Year" in Houston (2020, 2022), and has been recognized as one of The Best Lawyers in America© since 2015. At the age of 29, he was elected a "Texas Super Lawyer" for the first time, making him the youngest such recipient in the history of the award, a designation he has now received more than 10 times.  He was later chosen as one of the Top 100 Trial Lawyers and the Top 40 Under 40 by The National Trial Lawyers and America's Top 100 High Stake Litigators (2020) by America's Top 100 Attorneys.  Mr. Craft has multiple verdicts included in both the Texas and U.S. Top 100 list, and is a member of the Texas Verdicts Hall of Fame.
While he has been honored to receive numerous other professional awards and recognitions, he cares most of all for his clients, and the results he is able to obtain for them.