Free Case Evaluation
Houston Trucking Accident Lawyer
Truck accidents can and often result in catastrophic injuries to victims involved. Victims in passenger vehicles are particularly vulnerable in truck accidents. If you have been injured in a truck accident, you need a Houston truck accident attorney who will fight tirelessly to ensure that you get the compensation you deserve to carry on with your life. To find out about your rights in a truck accident and how Craft Law Firm can help you, call us today at 713-225-0500.
Why Choose Craft?
Craft Law Firm is a Texas-based trial law firm that handles cases involving catastrophic injury and wrongful death in transportation and workplace accidents.

We have taken on some of the largest companies in the world on behalf of our clients, including automotive manufacturers.

Craft Law Firm has been recognized by U.S. News as one of the Best Law Firms in America.

We take a limited number of cases, which allows our experienced team of lawyers to be selective and pay detailed attention to each case.
If you or a family member have been injured in a trucking accident, you may be facing a long, costly road to recovery. Craft Law Firm handles all cases on a contingency fee basis because we believe that every victim deserves competent and aggressive representation regardless of their ability to pay. Call us today at 713-225-0500 for a free consultation and case review with one of our experienced Houston truck accident attorneys.
What to Do After a Truck Accident
If you have been in a truck accident, what happens immediately after the accident is very important. Depending on the severity of your injury, some actions will be out of your control. If you are able to, you should:
Call the police immediately

. It is a good idea to get the police to the scene to get an official report of the accident. Whether you think the accident is minor or not, a police report is important documentation that you should have.

Document the accident with photos and videos

. Take photographs and videos of the damage to your vehicle, the accident scene, and any other important details in the surrounding area. You should also get vital information from the other driver and witnesses to the accident. You should get their full names and contact details. For parties involved in the accident, you will also need to get their vehicle information and insurance information, as well as the name and contact details of the truck company.

Seek medical attention

. Whether you have visible injuries or not, you should seek medical attention as quickly as possible after the accident. If you wait too long after the accident, it may make it more difficult to prove that your injuries were caused by the accident. It is not unusual for defendants to try to avoid responsibility by blaming your injury on other non-related causes.

Say very little

. Words matter. After an accident, whatever you say, no matter how unimportant you think it is, can be used against you. Do not admit fault even if you think you were at fault; do not speak to the other party's insurance adjusters; and do not share any thoughts or information about the accident on social media.

Speak to a truck accident attorney

. A truck accident lawyer knows that law and can help you understand your rights and entitlements in your case. Your truck accident lawyer will help you navigate the legal process to get the compensation you deserve. Whether you are getting a settlement or filing a case in court, having a knowledgeable truck accident lawyer by your side is the best way to protect your interests.
Who is Responsible for Your Truck Accident Injuries?
Holding someone responsible for your truck accident injury can be a very complex process. In a truck accident, the driver of the truck may not necessarily be the legally responsible party for your accident. A truck accident lawyer has the resources to investigate the accident and identify all legally responsible parties.
Texas Motor Carrier Safety Regulations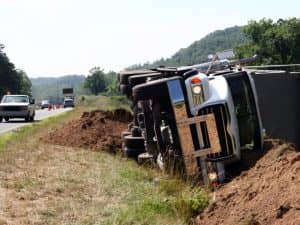 Texas has motor carrier safety regulations to protect the public from the risks associated with commercial motor vehicles like trucks. These regulations require that commercial trucks are safely maintained and operated, and provide clarity about who bears financial responsibility for injuries sustained in an accident.
Under Texas Motor Carrier Safety Regulations, when a negligent driver of a truck causes an accident, the party determined to be the "motor carrier" at the time of the accident bears the financial responsibility for the victim's injuries. The Regulations define the "motor carrier" as the individual or entity that "controls, operates, or directs the operation of one or more vehicles that transport persons or cargo over a road or highway." A truck may be owned by one entity, and the driver may be an independent contractor provided by another entity. In those situations, determining the motor carrier can be complex, but when you have an experienced truck accident lawyer by your side, you do not have to worry about getting it wrong.
How Much Compensation Can You Get For Your Truck Accident Injuries?
If you have been injured or lost a family member in a truck accident, you can get compensation for your economic and non-economic losses. Economic losses are those tangible losses that can be supported with invoices, receipts, bills, and other documentation. Economic losses include past and future medical expenses, past and future lost wages, and burial and funeral costs. Non-economic losses are subjective, intangible losses such as physical pain and mental anguish.
The amount of compensation you can get will depend on the severity of your injuries and the losses that you can prove with documentary or expert evidence. Your truck accident lawyer has the knowledge and resources necessary to value your case. The responsible party may offer a settlement, but their offer may be well below your actual losses. This is why it is always best to work with a Houston personal injury lawyer with experience and a track record of successfully representing victims like you.
Contact a Houston Truck Accident Attorney
If you have been injured in a truck accident, you need an experienced and passionate legal professional in your corner. Call Craft Law Firm to schedule a free consultation and review of your case. You pay nothing unless we win. Call 713-225-0500 today to get help.