Free Case Evaluation
Houston Car Accident Attorney
A car accident can change your life in a blink of an eye. Car accidents can result in catastrophic injuries or even fatalities. A motor vehicle accidents can happen as a result of distracted driving, intoxicated driving, aggressive driving, or defective car parts. If you have been injured by a car accident, you may need a Houston car accident attorney to help you deal with the insurance companies to get the compensation you deserve.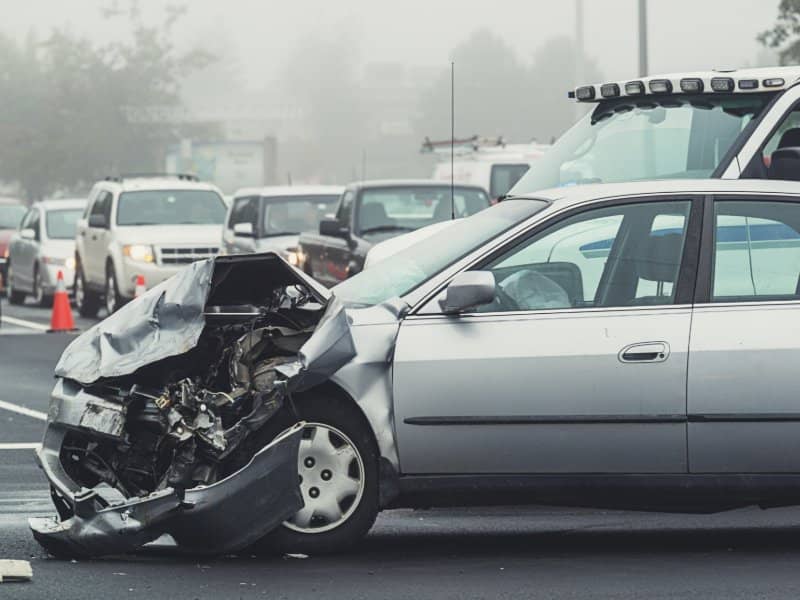 Craft Law Firm has a track record of success in getting compensation for our clients.
We have been recognized by U.S. News as one of the Best Law Firms in America for four straight years.
We have a reputation for excellence and experience, including our track record of success.
If you have been injured in a car accident, call us today at 713-225-0500 for a free and confidential case evaluation. When you call, you will be speaking with an experienced Houston car accident attorney, not a paralegal or intake specialist.
What to do After a Car Accident?
If you are involved in a car accident, the first thing you should do if you have been injured is to seek medical attention. If you are not critically injured and are able to, you should take photographs or videos of the scene of the accident, and get the contact information of any witnesses present. It is best that you limit your interactions
with those at the scene, including those who may have caused the accident, to collecting contact information and exchanging insurance information. Do not spend any time debating the cause of the accident or who was at fault. Whether or not you think that you might have contributed to the accident in some way, it is important that you do not admit any fault after the accident. Your admissions could be used against you when you try to pursue a claim against the other person(s) involved in the accident. Even when you do not feel hurt at the scene of the accident, it is advisable that you see a doctor because the full physical impact of an accident is not always apparent at the scene. Finally, you should consult with a lawyer if you feel that someone else may have been at fault.
Compensation Available in Car Accident Cases
All car drivers are required by law to have insurance coverage in case they cause an injury to another person. Different states have different requirements for the types of car insurance coverage that drivers must have. What and how much a car insurance policy will cover in the event of an accident depends on the state and the extent of the insurance coverage held by the policyholder.
Some states follow a "no-fault insurance" system where the policyholder's insurance will pay for economic damages without proof of fault, but the victim may be unable to bring a lawsuit against the "at-fault" driver. While the policyholder's insurance in the "no-fault" system covers the economic damages from the accident, without the need to prove fault, non-economic damages may be restricted and considered only for catastrophic injuries. Texas is a "fault" state where the injured accident victim must turn to the "at-fault" driver's insurance policy to cover their accident expenses.
Economic damages are tangible damages that can be quantified such as damage to the car, medical expenses, lost wages, and lost earning capacity. Non-economic damages are subjective and include such things as pain, emotional anguish, and loss of enjoyment of activities.
Unfortunately, sometimes insurance companies fail to uphold their duties to policyholders. Insurance companies are expected to deal with their policyholders in good faith and in some situations, a wronged policyholder can bring a lawsuit against an insurance company that acts in bad faith. Having a lawyer in your corner can help you deal with the insurance companies and show them that you are serious about your case.
What if I was Partly at Fault For the Accident?
Whether you think that you are at fault or partly at fault for an accident, you should never admit that to the insurance company. Whether you were at fault and the extent to which you were at fault for the accident can only be determined after an investigation. The effect of the results of the investigation will depend on where the accident took place because different states have their own laws about recovering damages for victims who are found to have contributed to an accident.
In some states, compensation can be reduced by the percentage of fault assigned to victims by the investigation. So, if you were found to be 20% at fault, and your total damages were $100,000, you would have to bear $20,000 of that amount, and receive only $80,000 from the other party responsible.
In other states, you may not receive any compensation at all if you are found to be 50% or more responsible for the accident. In this case, there are some states that make exceptions that allow you to recover your economic losses, but no non-economic losses.
In extreme cases, where a state follows the contributory negligence principle, you can be denied any compensation if you are found to be even 1% responsible for the accident.
The State of Texas follows what is called the modified comparative fault rule where compensation is reduced by the percentage of fault apportioned to the victim, provided that the victim's fault does not exceed the total fault of the wrongdoers. If there are multiple parties responsible for the accident, they will all be jointly responsible for the total amount apportioned to them.
As you can see, there is no straightforward answer to this question. The answer will depend on the laws in your state, and an experienced car accident attorney can help you understand the relevant laws and advise you based on the specific facts of your case.
What if There is More than One Party At Fault?
All states follow the principle of comparative fault, which means that every party found responsible for the accident will be held liable to the degree to which they were at fault. For example, if an investigation finds that the accident was caused by product defect, poor road maintenance, as well as driver error, then there are three parties responsible. How they bear the responsibility also depends on what state you are in. In some states, the three parties will be equally responsible for your compensation, and in other states, they will be responsible to the degree to which they contributed to the accident. That means that if the investigation finds that a product defect contributed only 10% to the accident, then the manufacturers of the product will be held liable for only 10% of the total compensation owed to you.
Dealing with the Insurance Company
It is important to understand that insurance companies are profit-driven entities that strive to receive more than they pay out to guard their profits. Expectedly, insurers will try to avoid or limit their responsibility and use different tactics to do so. You should be aware of these tactics so that you don't jeopardize your claim and lose out on compensation for the damages you suffer in an accident. Having an experienced lawyer who is advocating for you can help you avoid the traps that the insurance companies lay out to avoid responsibility.
Insurers have been known to use their position to their own advantage by misinterpreting their policy language, delaying the resolution of a claim in order to avoid it, and using other unfair tactics to frustrate a claim. Put simply, dealing with insurance companies can be a big headache. When you are dealing with the injuries caused by an accident, the last thing you want to deal with is an insurer giving you the run around and making impossible demands of you. Whether you are negotiating a settlement or you plan to go to court, you can avoid the added aggravation of dealing with insurers by having a Houston car accident attorney represent you. At Craft Law Firm, we prepare each case for trial and are always courtroom-ready. We are not afraid to go to court to get you the full compensation that you deserve.
Why You Need a Houston Car Accident Attorney
Having a Houston personal injury lawyer by your side in the aftermath of an accident can help you focus on getting your life back to normal while your lawyer pursues your claim. Your lawyer understands the law and will help you identify the responsible parties even where there are multiple parties legally responsible for the accident. When you are seeking compensation for your damages, you will need to go after all the parties responsible otherwise you may lose the opportunity to do so at a later time. Your lawyer can assess the situation and give you a realistic outlook based on his or her prior experiences with similar cases. You will benefit from a lawyer's experience in gathering evidence, negotiating settlements, and preparing for a lawsuit, if necessary. Your Houston car accident attorney will also have access to investigators and other experts who can provide supporting evidence and interpret the facts of your case for the best possible outcome. Craft Law Firm has a reputation for excellence and experience, including our track record of results for our clients.
If you have been injured by a car accident and need help navigating your situation, call us at 713-225-0500 for a free consultation and one of our experienced lawyers will be happy to speak with you.