Free Case Evaluation
Waco Car Accident Lawyer
The Texas Department of Transportation reports that in 2021, one person was killed every hour and 57 minutes, and one person was injured every two minutes and 12 seconds in car crashes in Texas. When you are in a car accident, your life can change in an instant. A car accident can impact your ability to work for some time, or even permanently. A car accident can cause you mental anguish because of the limitations to your lifestyle caused by injuries suffered in the accident.
Thousands of Texans are on the road every day going about their business. Your life as you know it can come to an abrupt standstill if you are injured in a car accident. If your auto accident was the result of another person or entity's negligence, you may be entitled to financial compensation for the damages you suffer. An experienced Waco car accident lawyer can help you understand your rights and get the compensation you deserve. Craft Law Firm can help you.
Car Accident Resources:
Why Choose Craft Law Firm
Craft Law Firm has a track record of success in getting full and fair compensation for our clients.

We have been recognized by U.S. News as one of the Best Law Firms in America for four straight years.

Craft Law Firm has recovered millions in settlements and verdicts for victims of motor vehicle accidents just like you.

Our car accident lawyers have a reputation for excellence and experience, including our track record of success.
If you have been injured in a Waco car accident, or you lost your loved one in a fatal car accident, you need a Waco car accident lawyer who knows the law and will ensure that you get justice. We believe that all victims should have fair representation to get the financial compensation they need to get their lives back on track. We make sure this is possible by offering free consultations and representation on a contingency fee basis. You pay nothing unless we win. Call 254-212-4107 today to speak with one of our experienced car accident attorneys.
How a Waco Car Accident Lawyer Can Help With Your Claim
In no-fault states, when drivers are involved in an auto accident, they generally do not have to worry about establishing who was at fault for the accident if the damages are within a certain limit. A victim's insurance company is responsible for their damages and so a victim simply files a claim with their own insurance company. This system aims to make it easier and faster for car accident victims to recover their damages and carry on with their lives. Although the no-fault system has its advantages, every state has its limits.
Because Texas is an at-fault state, a victim in a car accident must establish that the other party was at fault in order to get any compensation from them. This is not always an easy task, as most defendants and their insurance companies will try to avoid liability. An experienced car accident attorney has the knowledge and professional and financial resources to investigate the accident and establish which party was at fault.
Compensation Available to Waco Car Accident Victims
After a car accident in Waco, various types of compensation may be available depending on the circumstances and the extent of the injuries or damages incurred. Here are some common types of compensation that are commonly recovered:
Medical Expenses
The costs of medical treatment, hospitalization, surgeries, medications, rehabilitation, and other related costs. This includes both current and future medical expenses resulting from the accident.
Property Damage
If your vehicle or other property was damaged in the accident, you may be entitled to compensation for the cost of repairs or the fair market value of the property if it is deemed a total loss.
Lost Wages
If the injuries from the accident prevent you from working, you may be eligible to receive compensation for lost wages. This includes both the wages lost during the recovery period and potential future earnings if your injury has a long-term impact on your ability to work.
Pain and Suffering
Compensation for pain, suffering, and emotional distress resulting from the accident, including physical pain, mental anguish, anxiety, depression, and other emotional or psychological effects. 
Loss of Consortium
If the injuries sustained in the accident have affected your relationship with your spouse or partner, they may be entitled to compensation for the loss of companionship, affection, or support.
Punitive Damages
In certain cases where the at-fault party's actions were particularly egregious or intentional, punitive damages may be awarded as a form of punishment and to deter similar behavior in the future.
Who May Be Liable For a Waco Car Accident?
In a car accident in Waco, liability can extend to various parties depending on the circumstances surrounding the accident. While the at-fault driver is typically the primary party held responsible, a Waco premises liability attorney may find  other parties that are held accountable:
Driver at Fault

: The driver who caused the accident due to their negligence, such as by speeding, running a red light, driving under the influence, or any other violation of traffic laws, is usually considered liable for the damages.

Vehicle Owner

: If the at-fault driver was operating a vehicle owned by someone else, the vehicle owner's insurance company may be responsible since auto insurance follows the vehicle rather than the driver. 

Employers: If the at-fault driver was operating a vehicle in the course of their employment at the time of the accident, their employer may be held liable under the legal doctrine of "vicarious liability" or "respondeat superior." This doctrine holds employers responsible for the actions of their employees while they perform job-related tasks.
Government Entities

: If the accident was caused by preventable hazardous road conditions, such as inadequate signage, poorly designed intersections, or other factors related to the maintenance or design of the roadway, a government entity responsible for the road's upkeep may be liable.

Vehicle Manufacturers

: In some cases, a car accident may be caused by a defect in the vehicle itself, such as faulty brakes, defective tires, or malfunctioning airbags. In such instances, the defective product's manufacturer, distributor, or retailer may be held responsible under product liability laws.
Determining liability in a car accident can be complex and depends on the specific facts and evidence surrounding the case.
Determining Fault For Your Accident
You may be panicking because you think you were partially at fault for the accident and therefore you are not entitled to any compensation for your injury. That is not always the case. Even if you think that you caused the accident, you should never admit to anyone, particularly the other party or their insurance company, that you were at fault.
There is a legal rule called contributory negligence, which bars a victim from getting any compensation if they are found to be even one percent at fault for the accident. As you can imagine this would cause hardship for victims who such a rule applied to. Luckily, Texas does not apply that rule.
Texas applies what is called a modified comparative fault rule. Under this rule, a victim's compensation is reduced by the percentage of fault apportioned to them, as long as the victim's fault does not exceed the total fault of the other responsible parties. If there are multiple responsible parties, they will all be jointly responsible for the total amount apportioned to them. This means that, if you are the victim in an accident and you are found to be 30% responsible for the accident, and your damages are $100,000, you will only be able to recover $70,000, which represents the portion of the damages you were not at fault for.
The best way to ensure that you are not apportioned greater fault than is fair is to have passionate and experienced Waco personal injury attorneys who can fight for you and protect your interests.
How Long Do I Have to File a Car Accident Claim in Waco, Texas?
Texas limits the amount of time you have to file a car accident claim to two years from the date of your injury. This law, known as the statute of limitations, helps ensure that the legal process moves forward and the evidence remains available. However, claims against a city, county, or state government agency must be filed within six months. There are limited exceptions that can extend or delay the deadline, and once it has passed, you will not be able to recover compensation. If you are unsure of the statute of limitations on your case, our car accident lawyers can help.
Leading Causes of Car Accidents in Waco, Texas
Some of the leading causes of auto collisions in Waco include:
Distracted Driving
Cell phones, eating, daydreaming, children in the backseat, or following directions can easily take a driver's focus away from the road. Getting distracted, even if only for a split second, can result in a catastrophic auto accident.
Impaired Driving
Driving under the influence of alcohol or drugs, even prescription medications, can dramatically impair a driver's ability to operate a motor vehicle safely.
Drowsy Driving
Fatigued drivers are three times more likely to be involved in an auto accident, according to the National Safety Council. 
Speeding 
Speed limits are in place to promote safety. The faster a motor vehicle travels, the longer it takes to stop to avoid an auto accident.
Road Conditions
Construction, weather, or gravel, and dirt roads can all pose a serious threat. Gravel or loose dirt can shift under the tires and cause a motor vehicle to become unstable.
Damaged or Defective Auto Parts
If just one part of a car is defective or was poorly installed and fails, the entire vehicle can be affected and may lead to a serious car crash. These types of accidents commonly involve commercial vehicles due to faulty parts or lack of regular maintenance. 
Texas Car Insurance Requirements
Texas is an at-fault state. This means that any person who causes an accident will be financially responsible for the damages that they cause, including the repairs or replacement of damaged property and the medical expenses of any injured parties. Most drivers meet their obligations by holding car insurance policies to pay for damages they may cause as a result of a car accident.
In Texas, drivers must carry basic liability insurance with minimum coverage of:
$30,000 for one injured person in an accident; 

$60,000 for all injured persons in an accident; and 

$25,000 for property damage. 
While this is the basic minimum requirement, drivers should consider other policies such as collision, uninsured and underinsured motorist, and personal injury protection to ensure that they are prepared to cover the financial impact of a car accident.
Most Common Injuries Caused by Waco Car Accidents
Below are the most common types of injuries that victims file personal injury claims for after a car accident:
Whiplash

: This injury is a common form of soft tissue damage that occurs when a person's neck is 'whipped' violently back and forth. It is one of the most common car accident injuries. Soft tissue injuries can be excruciating, and they can take a considerable amount of time to heal.

Broken Bones

: Broken and fractured bones are not only severely painful injuries, but they take a lot of time to heal. They can be even more dangerous if a bone chip or fragment moves through the bloodstream and comes in contact with vital organs, such as your lungs or heart.

Traumatic Brain Injuries

: Concussions and traumatic brain injuries (TBIs) are among the most frightening injuries. In the most severe cases, brain injuries can result in permanent cognitive or physical impairment.

Spinal Cord Injuries

: The spinal cord is one of the most sensitive parts of the human body. Even a tiny amount of damage can have catastrophic consequences. A spinal cord injury can result in loss of range of movement, partial or total paralysis, permanent cognitive impairment, and loss of control over basic bodily functions.

Disfigurement or Amputation Injuries

: Road rash or any other severe laceration from a car accident can leave you permanently scarred or disfigured. In extreme cases, victims can experience a loss of a limb. 

Burn Injuries

: When a motor vehicle explodes or catches fire, victims can suffer varying degrees of burn injuries which can be devastating and create lifelong consequences for the victim.

Internal Injuries

: Internal injuries are easily undetected and possibly life-threatening if a victim doesn't seek medical attention right after a car accident. 

Emotional Distress

: Not all car accident injuries are purely physical. In some cases, victims are forced to deal with severe psychological damage, including post-traumatic stress disorder (PTSD). Car accident victims should not hesitate to seek professional treatment for their mental or emotional trauma.
All injuries from car accidents require immediate medical treatment. Some severe injuries can take up to 72 hours to fully materialize, so it is best to assume that you need to see a doctor. After seeking immediate medical attention, contact our car accident lawyers to get your injury claim started.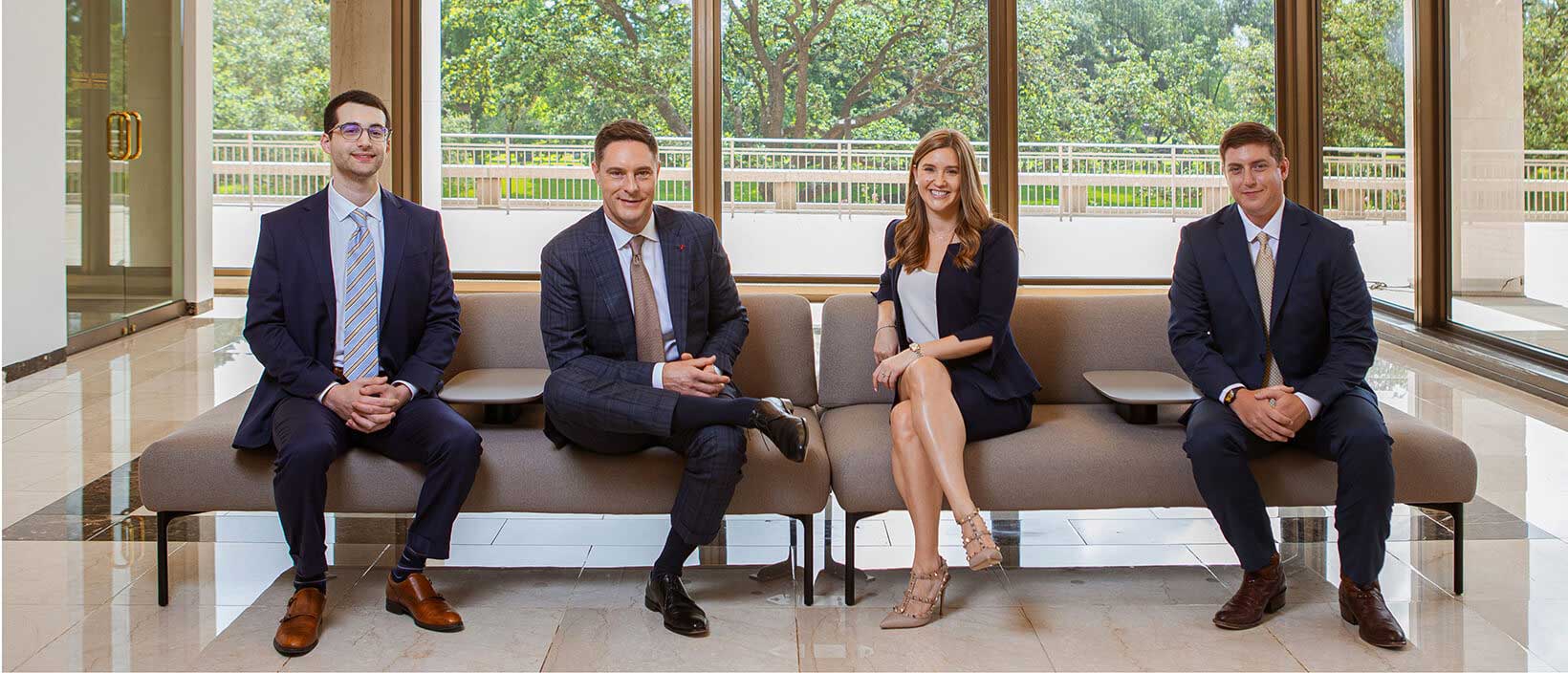 Car Accident FAQs:
How Much Does a Car Accident Lawyer Cost?
Many car accident lawyers in Waco work on a contingency fee basis, which means they will only get paid if you win your case or successfully settle out of court. In other words, their payment is "contingent" upon you receiving some form of monetary award or settlement. Here are some key points about contingency fee arrangements:
No Upfront Costs

: You generally do not have to pay anything upfront. The lawyer takes on the risk, investing their time and resources with the understanding that they will only get paid if they successfully resolve your case.

Percentage of Settlement or Award

: The lawyer's fee is usually a predetermined percentage of the settlement or court award you receive. This percentage can vary but is commonly around 25% to 40%.

Costs and Expenses

: Some lawyers might still require you to pay for costs and expenses related to your case (like filing fees or costs for expert witnesses) even if you don't win. Always clarify these details before you agree to hire a lawyer.

Incentive to Win

: Because the lawyer only gets paid if you do, they have a strong incentive to fight for the highest settlement or award possible.
These arrangements can be highly beneficial for accident victims who do not have the financial means to pay a skilled attorney hourly or an upfront fee to retain their services. 
What If I Was Driving For Work?
If you are involved in an accident while driving for work, several layers of liability and insurance may come into play. 
Workers' Compensation
If your employer carries workers' compensation insurance, you may be eligible for benefits to cover medical expenses and a portion of lost wages. Workers' compensation typically covers on-the-job injuries regardless of fault, but there may be exceptions for things like intoxication or reckless behavior. 
Employer Liability
Under certain circumstances, your employer may be liable for the accident. This is particularly true if you were performing a task that benefits your employer at the time of the accident. The "course and scope" of employment is often a determining factor. Employer liability is more likely if you were doing something closely related to your job duties when the accident occurred. Additionally, if your employer is a non-subscriber, meaning they do not carry workers' compensation insurance, you have the right to hold them accountable for your injuries and related losses. 
However, if you were driving your personal vehicle for work (e.g., Uber or Lyft), whether your rideshare company will cover the accident will depend on what phase of the ride you were in. 
Personal Auto Insurance
Your personal auto insurance might also be a factor, especially if workers' compensation doesn't apply or doesn't cover all your expenses. However, some personal auto insurance policies exclude coverage for business use. As a result, you may need a commercial or business auto policy for full coverage.
Third-Party Liability
If another party is at fault, you (or your employer's insurance) may seek damages from that third party or their insurance. Texas follows a "modified comparative fault" rule, meaning you can recover damages as long as you were no more than 50% at fault for the accident.
The Other Driver Didn't Have Insurance – Now What?
Texas is an "at-fault" state, which means that the driver who is found to be at fault for an accident is responsible for covering the resulting damages. However, if that driver is uninsured, collecting compensation can be difficult. Here's a general guide on what you could consider doing:
Use Your Own Insurance

: If you have

Uninsured/Underinsured Motorist Coverage (UM/UIM): If UM/UIM is part of your policy, you can file a claim to cover your damages. Texas insurance companies are required to offer this coverage, although you can decline it in writing. 

Collision Coverage: If you have collision coverage, it will pay for the damage to your vehicle up to policy limits regardless of fault, but you are responsible for the deductible.

Personal Injury Protection (PIP) or Medical Payments (MedPay): These types of coverages can pay for your medical bills regardless of who is at fault, up to the policy limits.
Legal Action

: You have the option to sue the uninsured driver for your damages. However, even if you win the case, collecting the money may be difficult if the driver has limited assets.
Will My Case Settle or Go To Trial?
Statistically speaking, the vast majority of car accident cases settle out of court. Some estimates suggest that around 90-95% of personal injury cases (which include car accidents) resolve in settlement before they get to trial.
Factors that Influence Settlement
Strength of the Case

: Strong evidence of fault or negligence on the part of the other driver can make a settlement more likely.

Legal Costs

: Both sides may aim to avoid the expenses, time commitment, and emotional toll associated with a trial.

Certainty

: Both sides may prefer to settle, as trial outcomes can be unpredictable.

Minor Injuries

: When cases involve minor injuries, it is more likely to settle.
Factors that Influence Going to Trial
Disputed Liability

: If either party believes they have a strong case, they may be willing to go to court.

Injury Severity

: Cases involving severe or long-term injuries mean high damages. Therefore, both sides might be less likely to settle if they cannot agree on a reasonable compensation amount.

Legal Strategy

: Sometimes, lawyers advise going to trial as a strategy to prompt more favorable settlement offers.
It's crucial to note that each case is unique, and what applies generally may not apply to your specific situation. An attorney can offer the most accurate advice tailored to your circumstances.
Can I Still Recover Compensation if I Was Partly to Blame?
Texas uses the "Modified Comparative Fault" rule. If you are partially at fault, your award will be reduced by your percentage of fault as long as it's under 51%. For example, if your damages total $100,000 and you are found 30% to blame, you will receive 70% of your award or $70,000. On the other hand, if you were 51% or more to blame, you would not receive any compensation. 
Contact the Waco, Texas Accident Attorneys at Craft Law Firm
If you have sustained an injury in a car accident, truck accident, or motorcycle accident, you need a professional legal team working for you. The insurance companies will try to avoid as much liability as they can. But, when they see that you are represented by Craft Law Firm, they will know that you are serious about your case. We have a reputation for excellence and experience, and our track record of results for our clients speaks for itself. If you are looking for a Waco car accident lawyer that will vigorously pursue your case and get you the compensation you deserve, call 254-212-4107 to schedule your free consultation.
Client Testimonial: 5/5 ★ ★ ★ ★ ★
"They are a very professional, serious, and punctual firm. If I ever needed a legal representative, I would hire them again. The service received was very professional, their team showed a lot of dedication to my case. I felt very confident during the process. My family and I are very grateful to them. I can't find words to thank them for what they did." -M.S.
Areas We Serve:
Alta Vista | Austin Ave | Beverly Hills | Brook Oaks | Brookview | Dean Highland | Downtown Waco | Heart of Texas | Kendrick | Landon Branch | Mountainview | North Lake Waco | North Waco | Oakwood | Parkdale Viking Hills | Richland Hills | Sanger Heights | Timbercrest | University | West Waco
We frequently handle claims for I-35 car accidents as well as accidents that occurred on U.S. Route 77, U.S. Route 84, and State Highway 6.