Free Case Evaluation
Waco Motorcycle Accident Lawyer
A motorcycle ride can be exhilarating, but riders are at risk of serious injury in the event of a collision. Motorcyclists are much more vulnerable to road hazards than occupants of passenger vehicles because they have no physical barrier shielding their bodies from impact. According to National Highway Traffic Safety Administration (NHTSA) statistics, motorcyclists are nearly 29 times more likely than car riders to die in a crash. If you have been injured or have lost a loved one in a motorcycle accident, a Waco personal injury lawyer at Craft Law Firm can help you get compensation for your loss.
At Craft Law Firm, we handle cases involving catastrophic injury in transportation incidents.
We have taken on some of the largest companies in the world, including energy giants and automotive manufacturers, and obtained successful results for our clients that changed their lives.
We represent victims. We deliver!
We handle all cases on a contingency fee basis, so we never charge a fee unless we win. Call us today at 254-212-4107 for a free consultation.
Motorcycle Safety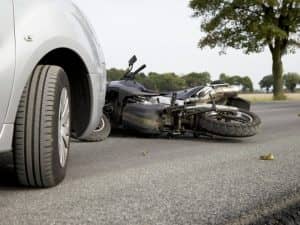 The most important thing for any motorcyclist is training. Motorcyclists must meet additional requirements after obtaining their regular driver's license in order to obtain a Class M license to operate a motorcycle. As is required for a regular driver's license, motorcyclists must complete a safety training course, a written test, and a road.
All registered motorcycles must pass an annual inspection to certify that all their component parts are functioning properly, and they are fit to be on the road. There are helmet laws that require motorcyclists under a certain age to wear helmets while riding their motorcycles. There are also passenger laws that regulate motorcycle passengers. Every state has different safety laws and motorcyclists are required to know the motorcycle laws in their state.
Causes of Motorcycle Accidents
Motorcycle accidents are most often caused by negligence. Some of the more common causes of motorcycle accidents are:
Reckless driving – speeding, weaving between cars, dangerous lane changes, and driving while intoxicated
Visibility – because of their size, motorcycles can be difficult to spot by other vehicles on the road

Blind spots – motorcyclists are at risk if they find themselves in the blind spot of vehicles making a left-hand turn

Cars passing – gusts of wind from other vehicles passing a motorcycle can cause the motorcyclist to lose control resulting in an accident

Corner turns – turning corners can be very dangerous for motorcyclists. Unfamiliar and poorly maintained roads pose a greater danger for motorcyclists
How Much Compensation Can You Get?
The amount of compensation you can receive after a motorcycle accident depends on the cause of the accident and the extent of your injuries. You may be entitled to compensation for your medical expenses, lost wages, and even your pain and suffering.
Unfortunately, there are biases against motorcyclists, including that motorcyclists are thoughtless and reckless drivers. These biases can work against a motorcyclist who has been injured in a motorcycle accident. An experienced Waco motorcycle accident lawyer can help you overcome these biases to recover your losses from the accident. Your lawyer would have access to professionals such as accident reconstruction experts, motorcycle operations experts, medical experts, and economists, who will work to prove your case and put a value on your losses.
Your lawyer can also advise you of any implications if you are found to be partially at fault for the accident. All states have their own rules, and your lawyer can tell you what to expect. For example, if you are in a state where the doctrine of contributory negligence is followed, then you will not be entitled to any compensation even if you are only one percent at fault. Craft Law Firm has litigated on behalf of clients in more than 30 states and we can help you with your case.
Waco Motorcycle Accident Lawyer
We offer free consultations at Craft Law Firm. If your or a loved one has been in a motorcycle accident and have suffered losses, call us at 254-212-4107 for a free consultation with a Waco motorcycle accident lawyer. If you were injured in an automobile accident, contact our Waco car accident attorneys.