Free Case Evaluation
Waco Amputation Injury Attorney
One day you are whole, you can dress yourself, feed yourself, and put your arms around your children, and the next day you can't. The impact of an amputation on a person's life can have very devastating physical and psychological effects. If you have suffered an amputation as a result of the negligence or misconduct of another person, you need an experienced Waco amputation injury attorney to help you get compensation for the damages you suffer.
Craft Law Firm has successfully handled cases across the United States and around the world, securing recognition within VerdictSearch's Top Verdicts in Texas and Top Verdicts in the United States.
We have a reputation for excellence and experience, including our track record of results for our clients.
Our goal is to welcome each client as part of our Craft Law Firm family both during and after their cases and help them navigate what has become the new normal in their lives.
We handle all cases on a contingency fee basis. This means that we never charge a fee unless we win. If you have suffered an amputation, call 713-225-0500 today for a free and confidential case evaluation with our Waco amputation lawyers.
What is Considered an Amputation?
An amputation is the removal of a part of the body that is covered by skin. Amputations may occur as a result of disease, trauma, or cancer. According to the Amputee Coalition, 45% of amputations are the result of trauma.
Some traumas that result in amputations include:
Workplace accidents
Medical malpractice
Defective products
Dog bites
What To Do If You've Suffered an Amputation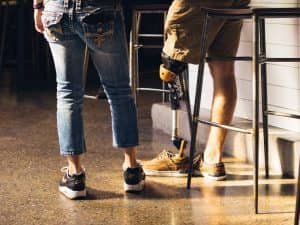 If you have lost a limb because of the negligence or wrongful actions of another person or entity, you should talk to your amputation lawyer to find out if you are entitled to compensation from them. As soon as you are able to, after your amputation, you or a family member should gather all your evidence and contact a lawyer with experience handling amputation and disfigurement cases to ensure that your legal interests are protected. Even if your case does not go to court, an experienced Waco personal injury attorney will have access to expert lawyers who can evaluate your case and determine a fair compensation value for your case. Having this information will help in any negotiations you have with the parties responsible for your amputation.
Workplace Accidents That Result in Amputations
If your amputation is a result of a workplace accident in Waco, you may be eligible for workers' compensation. Unfortunately, your workers' compensation benefits may be inadequate to cover all your medical expenses and adjustments necessary for you to carry on with your life as comfortably as is possible under the circumstances. Workers' compensation benefits for amputations is a complex area and you may be denied benefits if you do not have an expert advocating on your behalf with your employer's insurance company.
Compensation for Amputations in Waco
If successful, you can get compensation for your economic losses which include your medical bills, cost of prosthetic limbs, physical therapy and rehabilitation, lost income, lost earning capacity, and home modifications. You may also be entitled to compensation for your non-economic losses. These are intangible losses that include loss of joy in living. Some states put a cap on the amount of non-economic losses that a victim can recover. A Waco amputation lawyer can advise you on your options.
Waco Amputation Injury Attorney
If you have suffered an amputation as a result of the negligence or misconduct of another person and you are confused about what your legal rights are, you can call us for a free consultation. Call 254-212-4107 to speak with one of our experienced amputation lawyers in Waco, Texas.