Free Case Evaluation
Waco Construction Accident Attorney
According to the Department of Labor, Occupational Safety and Health Administration (OSHA) statistics, construction deaths account for approximately 20% of worker fatalities in the private industry. Construction is, undeniably, a high hazard industry. Construction workers are exposed to potentially fatal situations every day they are on site. Situations like falling from a rooftop, electrocution, or being struck by heavy equipment can lead to catastrophic injury such as brain injury and loss of limb, or death. If you have suffered an injury as a result of a construction accident, you may need a lawyer to help you get monetary compensation for your medical expenses and any other losses you suffer because of the accident. A Waco personal injury attorney at Craft Law Firm can help you.
Craft Law Firm handles cases involving catastrophic injury and death in transportation and workplace incidents.
We take a limited number of cases and that allows our team of lawyers to be selective and pay detailed attention to each case.
We prepare each case for trial and are always courtroom-ready.
We have been recognized with the distinct honor of being a U.S. News and World Report Tier One Best Law Firm for the past four years.
If you have been injured in a construction accident, call 713-225-0500 for a free consultation one of our experienced attorneys for free. We handle all cases on a contingency fee basis, so we never charge a fee unless we win.
Common Types of Construction Accidents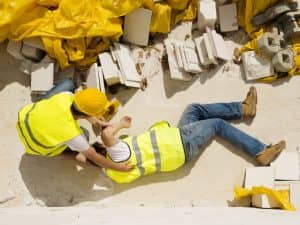 According to OSHA, the four most common types of accidents in the construction industry are: fall hazards, caught-in or -between hazards, struck-by hazards, and electrocution. Construction workers must receive training in areas such as nail gun safety, scaffold safety, electrical safety, safety around cranes and other large equipment, and fall prevention, to prevent these common accidents. Construction companies are responsible for providing a safe work environment and ensuring that their workers receive adequate training and acquire the necessary certification to work on a construction site. Some resulting injuries of construction accidents can include traumatic brain injury, amputation, or even death.
Construction Standards
OSHA is the government agency set up to ensure safe and healthful working conditions for workers by setting and enforcing standards for most private sector employers and their workers, and some public sector employers and their workers. These standards are the minimum that all workplaces are required to adhere to to keep workers safe. Construction companies are required to discharge their duty to the public and to their workers by adhering to these standards.
According to OSHA, the most frequently violated standards are:
Fall protection
Hazard communication standard
Respiratory protection
Scaffolding and general requirements
Ladders
Control of hazardous energy
Fall protection – training requirements
Eye and face protection
Powered industrial trucks
Machinery and machine guarding
These standards are designed to protect construction workers as well as members of the public who are in the vicinity of a construction site. When someone is injured as a result of a violation of these standards, the construction company might be responsible for any losses that the injured person incurs.
If you are working in an unsafe environment and you have been injured as a result, you can file a complaint with OSHA if your employer is blatantly refusing to comply with workplace safety standards.
Generally, an injured person must prove negligence to get compensation from the person or entity that caused their injury. This means that they must show that the person or entity owed them a duty of care, which was breached, and the breach caused the injury. In some states, negligence per se applies to violations of OSHA regulations. This means that the injured worker does not have to prove that the employer breached their duty of care. The violation of the regulation is enough to show that they did.
Liability for Construction Accidents
Sometimes, identifying the person or entity to hold responsible for injuries suffered in a construction accident can be a complex legal question. For example, imagine a situation where a construction company has its workers on the highway and fails to provide for the safety of its workers by implementing a traffic control plan to isolate the construction site and protect its workers from cars entering the construction site. If a driver who falls asleep at the wheel suddenly veers off course and drives into the construction site, knocking down one of the workers, and causing them injuries, there may be more than one party liable for the injured worker's injuries.
The question is, who would be responsible? The driver who fell asleep at the wheel or the construction company, which failed to implement a traffic control plan? There may be other responsible parties including equipment manufacturers and construction site owners. Sometimes you need a construction accident lawyer to help you figure out all the parties responsible for your injury. When there are multiple parties potentially responsible for an accident, they may try to shift the blame to others to avoid taking responsibility, creating a very difficult and frustrating situation for the victim. In such situations, it is best to have a construction accident attorney who is looking out for your interest to identify all parties responsible for your injury and hold them all accountable.
Can I Sue My Employer If I Have Workers' Compensation?
Generally, if your employer offers workers' compensation, you cannot sue your employer for a workplace injury except in very limited circumstances like when your employer's intentional conduct caused your injury. Workers' compensation typically covers your medical expenses and a fraction of your salary while you are unable to work. It does not cover other losses like your pain and suffering. Workers' compensation also does not provide for punitive damages. If your employer has failed to provide a safe working environment and ignored OSHA workplace standards, you may be able to recover punitive damages by suing them outside of your workers' compensation claim. A construction accident attorney can help you understand your rights and advise you about your legal options.
Waco Construction Accident Attorney
Our construction accident experts at Craft Law Firm can help you. If you have been injured in a workplace accident and are unsure about your situation or confused about your legal options, call us at 713-225-0500 and speak to a Waco workplace accident lawyer. We offer free consultations and don't charge a fee unless we win your case.