Free Case Evaluation
Houston Roof Crush Attorney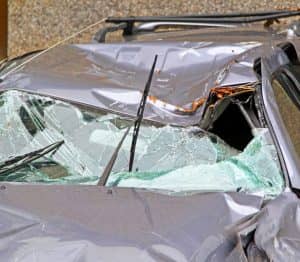 A strong roof that can withstand the force of a rollover is one of the most important safety features in a passenger vehicle. A roof that crushes or folds during a rollover can cause catastrophic injuries or even result in a fatality. The injured party can be left with hundreds of thousands of dollars in lost wages, medical bills, and other expenses related to a roof crush accident. A Houston roof crush attorney can help fight your case.
Causes of Roof Crush
Roof crush is a particularly serious auto failure because it directly impacts the occupants' heads and spinal cords. When a vehicle roof collapses, it becomes more likely the occupants may come into contact with the vehicle's roof, or be fully or partially ejected from the vehicle. The manufacturer of the car is often at fault in rollovers.
Roof crush has become more apparent with the rise in popularity of SUVs. SUVs tend to rollover more frequently than smaller to mid-sized cars due to their height and narrow design. Rollovers often result in unnecessary amounts of roof crush. Manufacturers have been slow to meet increasing roof crush incidents with preventative safety technology.
Common Injuries Associated With Automotive Defects
When a vehicle rolls over, the roof may be forced into the passenger's zone of safety. Also, a deformed roof can increase the likelihood of a passenger being ejected, even when wearing a seat belt. Roof crush is extremely dangerous and oftentimes deadly. Defective roofs can cause:
Severe head trauma
Paralysis, paraplegia, or quadriplegia
Neck and spinal cord injuries
Houston Roof Crush Attorney
If you or a loved one has been injured or killed in a Houston roof crush accident, you may have the option to file a personal injury and/or products liability lawsuit against the car manufacturer. The Houston car accident lawyers at Craft Law Firm has handled rollover and roof crush injury and death cases since its inception and we welcome the opportunity to evaluate your situation and help your family.