Free Case Evaluation
Houston Refinery Explosion Lawyer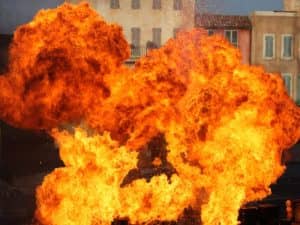 Work in a refinery can be among the most dangerous in the nation, with millions of barrels of oil and natural gas being processed in the U.S. each day. Refinery work requires the use of a variety of toxic chemicals operating at high temperatures. When the proper safety procedures and precautions are not taken, the results can be dangerous or even deadly. One of the most common causes of fatalities in a refinery are explosions, which are extremely dangerous for those working both inside and outside of the facility and even those in neighboring areas. These explosions can also occur in industrial settings, processing and chemical plants, terminals, docks, trains, oil and gas storage facilities, and other refinery related environments. If you or a loved one was injured or killed in a refinery accident, a Houston refinery explosion lawyer from Craft Law Firm can help you fight your case.
Causes of Explosions
With millions of workers employed as part of the oil and gas industry, many are in danger at any given time. This includes those working in the exploration and production of crude products, those in refineries and chemical plants, transportation professionals, and workers in support facilities.
Refinery explosions can often be linked to the negligence of facility owners or management when they fail to invest in the inspection, replacement, repair, and maintenance of equipment or property. This was the cause of the March 2005 BP refinery explosion in Texas City, when corroded pipes were found to have released flammable vapors into the air, which caused an explosion. This accident was responsible for 15 wrongful deaths and over 170 injuries.
The most common causes of refinery explosions are:
Failure to provide adequate safety equipment
Failure to provide adequate training of employees in proper safety procedures
Failure to post signage, proper warnings, and handling instructions
Failure to inspect lines, tanks, and other equipment
Failure to conduct necessary repairs
Defective equipment or worn tools and machinery
Unsafe handling of chemicals
Negligent or untrained third-party contractors or subcontractors
Improper use of natural gas, benzene, and other flammable liquids
Violations of OSHA regulations, state law, or other safety codes
Refinery Explosions and Wrongful Death
When a refinery explosion is caused by the negligence of an employer or a third party, they are financially liable for any injuries or deaths that occur, including compensation for:
Medical bills
Funeral expenses
Lost wages
Pain and suffering
Lost companionship
Punitive damages, should the guilty party be found to have acted in a grossly negligent manner
Houston Refinery Explosion Lawyer
A statute of limitations applies if you or a loved one was involved in a refinery explosion. Be sure to ask for help as soon as possible in order to preserve evidence and properly deal with the employer, third parties, and their attorneys. Contact a Texas refinery explosion lawyer Craft Law Firm today for a free case evaluation.