Free Case Evaluation
Houston Distracted Driving Lawyer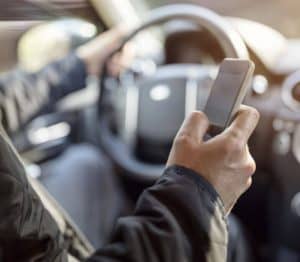 According to the Department of Transportation, 3,450 people were killed in 2016 due to distracted driving. This number represents nearly 10% of all fatal motor vehicle accidents. Distracted driving is the third leading cause of automobile fatalities behind only spending and alcohol. The CDC reports over 1,000 people are injured every day due to motor vehicle accidents caused by distracted behaviors. If you or someone you know was a victim of this, a Houston distracted driving lawyer at Craft Law Firm can help.
Hunter Craft won the first texting and driving fatality verdict in Texas in 2010. Representing the family of Megan Small, a student at Baylor University who was killed by a driver who crossed over into oncoming traffic while texting, Mr. Craft secured a $21.8 million verdict for her family.
Distracted driving is defined as driving while simultaneously performing another activity that takes the driver's attention away from driving. The CDC lists three types:
Visual – when the driver takes their eyes off the road
Manual – when the driver takes their hands off the wheel
Cognitive – when the driver takes their mind off of driving
Mobile device use is dangerous because it can cause visual, manual, and cognitive impairment at the same time, even when using a hands-free device. Using a hands-free device does not reduce crash risk due to distracted driving. Studies show there is no reduction in the risk of crashing by using a hands-free device. Additionally, a study showed the odds of failing to stop at a stop sign is 10 times greater for drivers talking on a cell phone.
Distracted driving, however, is not limited to cell phone use. Other types of distracted driving include using GPS or a navigation app, eating, drinking, adjusting the radio, speaking to others in the car, rubbernecking, or applying makeup.
Types of Distracted Driving Accidents
Driving while distracted is one of the leading causes in a wide variety of car accidents, resulting in everything from property damage to wrongful death. These behaviors can cause or contribute to many different types of vehicle accidents, including:
Rear-end collisions
Collisions with pedestrians or cyclists
Houston Distracted Driving Lawyer
In Texas, there is a statewide ban on using a wireless communications device for electronic messaging while driving a motor vehicle. This includes texting along with reading or writing email. It has been illegal to do so since 2017.
If you are involved in an accident that was caused by distracted driving, it is imperative you contact an experienced representative who is familiar with the law in your state. You only have a limited time to pursue a case if you were involved in a motor vehicle driving accident. Find out how a Houston distracted driving lawyer at Craft Law Firm can help you today.