Free Case Evaluation
Houston Rollover Attorney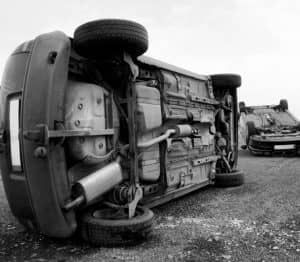 According to Consumer Reports, rollovers account for approximately 33% of all motor vehicle fatalities, claiming more than 10,000 lives per year. Rollover deaths have increased over time due to the growing number of SUVs on the roadway. These larger passenger vehicles are more prone to rolling over, and the accidents often result in the roof crushing and/or the seat belts failing. Rollovers are more likely to kill those who are ejected from the vehicle; even passengers properly wearing their seat belts can be ejected. Ejection accounts for over half of rollover fatalities. A Houston rollover attorney at Craft Law Firm can help you fight your case to recover damages from your accident.
SUV Rollovers
Sports utility vehicles, vans, and light trucks are the most likely types of vehicles to be involved in a rollover. Safety experts have long stated the best way to make SUVs less likely to roll over is to lower the center of gravity, widen the wheel track, and provide electronic stability control. However, automakers historically chose less expensive and less effective designs.
Causes of Rollovers
Rollovers are complex crashes. Rollovers are affected by the type of vehicle, the roadway conditions, and a number of other factors. The most common types of rollover crashes include:
Tripping– Tripping occurs when a vehicle's tires hit a curb, shoulder, or other roadway hazard causing it to rollover. The National Highway Traffic Safety Administration (NHTSA) reports that an estimated 95% of all rollover crashes occur due to tripping.
Multi-vehicle collisions– Crashes involving one vehicle striking another vehicle from the side are common causes of rollover crashes.
Defective tires– Faulty tires may cause the driver to lose control of their vehicle and result in a dangerous rollover. A tire blowout also has the potential of causing a serious rollover crash.
Rounding a corner– As a vehicle rounds a corner, three forces act on it: tire forces (the centripetal force), inertial effects (the centrifugal force), and gravity. When the tire and inertial forces are enough to overcome the force of gravity, the vehicle starts to turn over.
Houston Rollover Attorney
In Texas, rollovers are common because of the number of SUVs, pickup trucks, and other heavy vehicles on the road. If you or a loved one was killed or injured as a result of a rollover accident, be sure to contact an experienced Houston rollover attorney who can help win your case. Craft Law Firm's Houston car accident lawyers have handled hundreds of automotive defect cases, many of them involving vehicle rollover. Contact us today for more information on how we can help.