Free Case Evaluation
Houston Construction Accident Lawyer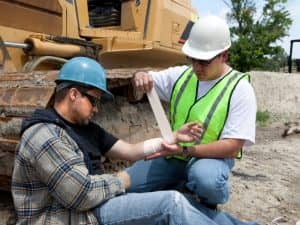 According to OSHA, approximately 6.5 million workers are employed in over 200,000 construction sites across the United States on any given day. The rate of injury for the industry is significantly higher than the national average, which is no surprise given the dangerous nature of the job. Worksites often include dangerous stairs, structures, cat walks, electrical wiring, gas lines, and machinery. When a company fails to meet the proper safety guidelines, they can be held responsible for construction accidents. A Houston construction accident lawyer from Craft Law Firm is ready to take your case.
Causes of Construction Accidents
Construction workers suffer are victim to numerous types of accidents, including falls, electrocutions, burns, crush injuries, vehicle accidents, and explosions. OSHA publishes a list of the top ten most frequent violations in the construction industry:
Improper scaffolding
Inadequate fall protection
Excavation violations
Improper or faulty ladders
Lack of Personal Protective Equipment (PPE)
Excavation mishaps
Failure to provide HAZMAT information, including MSDS
Failure to provide adequate training
Failure to adopt and enforce safety provisions for heavy machinery operations
Failure to meet proper electrical safety standards
Houston Construction Accident Lawyer
While many workplace injuries involve worker's compensation, injured workers and their families may also be entitled to financial damages from other parties beyond the employer, such as property owners, construction managers, equipment manufacturers, safety personnel, general contractors, and subcontractors.
OSHA regulations require employers to meet a number of obligations, including the requirement to offer a workplace free from safety hazards, to establish a comprehensive safety communication program, and to ensure all workers have the proper tools, equipment, and training. These regulations include a number of rules for different types of construction work, from residential to commercial to industrial. Failure to meet these requirements could amount to negligence on behalf of a company.
If you or a loved one has been injured in a construction accident, there is a limited time to act. Contact us today for a free case evaluation.