Free Case Evaluation
Houston Bus Accident Lawyer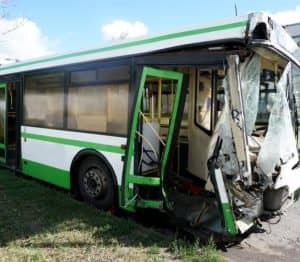 According to the Federal Motor Carrier Safety Administration, 4,455 people were killed in large truck and bus accidents in 2017. Bus accidents are actually far more deadly to passengers in other vehicles involved in the accident than they are to passengers riding in the bus itself. Among school bus crashes from 2010 – 2019, only 11% of the people killed were actually on the bus. If you were involved in an accident, a Houston bus accident lawyer at Craft Law Group are ready to take on your case.
Causes of Bus Accidents
All buses, from private tour buses to those involved in public transportation, can experience crashes on a regular basis. Bus companies and drivers can be at fault for an accident when they fail to comply with federal and/or state law. Buses by their very nature have blind spots due to their size, making it hard for the driver to see.
Other causes include but are not limited to:
Careless driving
Poor training or supervision
Bus driver under the influence of alcohol or drugs
Driving in poor weather conditions
Defective bus equipment, such as brakes or tires
Improper bus maintenance
Dangerous roadways
Accidents involving a bus tend to be far more complex than a standard motor vehicle accident. More than one party may be responsible for the resulting damages. For example, one or more of the following entities may have played a role in causing a bus accident:
The bus driver
The driver of a separate vehicle involved in an accident
The owner of the bus for failing to inspect, maintain, or repair the bus
The operator of the bus for failing to inspect, maintain, or repair the bus
The repair company in charge of fixing the bus
The bus manufacturer
The manufacturer of a defective component part for the bus
Houston Bus Accident Lawyer
Victims of bus accidents are entitled to recover damages for expenses, such as medical bills, lost wages, reduced earning capacity, destruction of property, pain and suffering, and more. Be sure you have an experienced representative on your side when dealing with a bus company and its representatives. Craft Law Firm's Houston personal injury attorneys have successfully handled bus accident cases across the country, and we welcome the chance to help your family. Contact us today for a free consultation.