Free Case Evaluation
Houston Amputation Attorney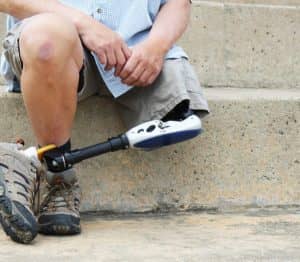 Approximately 1.7 million Americans have suffered some type of limb loss, with 50,000 new amputation cases reported each year. The negligence of other people can lead to severe nerve damage resulting in amputation. These amputations are a traumatic experience for everyone involved. People living with traumatic amputations due to another's negligence face ongoing medical expenses far beyond their means. When an amputation occurs due to the fault of another, such as in an auto accident, workplace accident, or because of a defective product, the victim has legal recourse. A Houston amputation attorney from Craft Law Firm is ready to help with your case.
Causes of Amputations
Amputations may result from a number of unfortunate circumstances, including:
Defective products such as home power tools, shelving units, appliances, exercise equipment, forklifts, tractors, assembly line components, etc.
Fires and explosions
What You Need for an Amputation Lawsuit
Victims of injuries leading to traumatic amputation can file a lawsuit to recover damages for:
Past and future medical bills
Pain and suffering
Cosmetic surgery to repair the damage
The cost of prosthetic limbs, wheelchairs, and related items
Rehabilitative care, including physical therapy
Mental health services
Long-term care
Lost earnings and earning capacity
Punitive damages, should the guilty be found to have acted in a malevolent manner
Houston, Texas Amputation Attorneys
In the state of Texas, you have two years from the date of the incident that caused the amputation to file a claim against the responsible parties. An insurance company or employer who is seeking a quick settlement after your amputation may contact you or your family directly. They will most likely offer you less than the fair amount of compensation you are entitled to. Do not speak with an insurance adjuster or employer representative of the potentially liable parties without the proper representation of a Houston personal injury lawyer. Anything you tell them may be used in a court of law to get you to settle for much less than you deserve. Call our law firm today to speak with an experienced Houston amputation attorney.