Free Case Evaluation
Houston Tire Failure Lawyer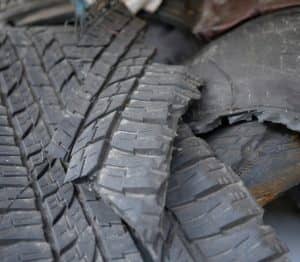 Protective auto product liability regulations have allowed industries to hide information about safety concerns regarding their products from the public for decades. This allows widespread tire defects to go unchecked, which can result in countless unnecessary vehicle crashes leading to injury and even death. You may need a Houston tire failure lawyer if you have been involved in an accident.
Causes of Tire Failures
Many defects that lead to tire failures occur as early as during the manufacturing stages. Substandard manufacturing practices or designs can lead to tire failures down the line. Shoddy machinery, inferior materials, and failure to properly inspect tires before they leave the plant can also contribute to tire failures. Auto dealers, tire shops, and mechanics should ensure tires are appropriate for the vehicle, installed correctly, and inflated to the proper psi before putting them on the streets.
Tread Separations
According to Crash Forensics, tread detachment is the foremost cause of tire failure that leads to collisions brought on by loss of control. Tread detachments make a vehicle difficult or impossible to control. Tread detachments can be caused by a design or manufacturing defect in the tire, defective tire components, inadequate tire maintenance or repair, or the age of the tire.
Commercial Tire Failures
Tire failures occur in more than just standard passenger vehicles. They also occur in 18-wheelers, heavy trucks, buses, commercial vehicles, construction equipment, oilfield tankers, motorcycles, and recreational vehicles. When a tire fails on a commercial vehicle, the results can be even more deadly. Industry standards require large vehicle owners, operators, and drivers to ensure the tires on their vehicles are appropriate for the vehicle and in good working order. If they fail to do so, they can be held liable for tire failure crashes.
Houston Tire Failure Lawyer
All vehicles in the United States are required to be inspected on a yearly basis, including the tires' tread depth and inflation. If you were involved in an accident involving tire failure, you have a limited time to act. A number of parties may be responsible for the accident, including the tire manufacturer, vehicle manufacturer, tire shop, inspection shop, or a combination. Be sure you have the right representation before moving forward with a claim by contacting a Houston tire failure lawyer at Craft Law Firm.