Free Case Evaluation
Houston Forklift Accident Lawyer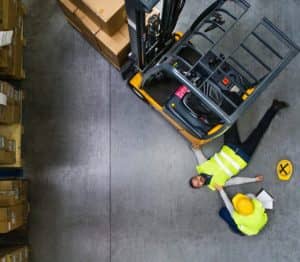 Forklifts are powerful pieces of heavy machinery often used to move objects at a worksite. Forklifts can be hazardous if used incorrectly or improperly maintained. In fact, forklifts can be one of the most dangerous tools on a work site. Forklift accidents can cause severe or permanent injuries, and even death. If you've been injured at your workplace, contact a Houston forklift accident lawyer at Craft Law Firm for help.
Causes of Forklift Accidents
Forklifts are perilous. They can weigh up to 9,000 pounds (for comparison, the average sedan can weigh 2,000 to 3,000 pounds). Forklifts do not have all wheel brakes, which make them harder to stop in emergency situations. They are difficult to handle given uneven loads, rear wheel turning, and tight work spaces. As an added hazard, forklift drivers' view is obstructed by cargo on the lift itself. Forklifts can cause injuries if they are improperly maintained, if an operator is not properly trained, or if they contain a defective component part.
Forklift accidents can happen when the following occurs:
Failure to provide a low clearance warning
Excessive noise in the work area impairing safe communication, horns, and hearing alarms
Malfunction of the forklift
Violations of OSHA regulations
Failure to adopt safety rules for the safe operation and maintenance of forklifts
Failure to design and clear a safe workplace for the operation of forklifts
Improper training or lack of training for working with or around forklifts
Human error such as improper handling, workload, driver impairment, and others
Houston Forklift Accident Lawyer
In Texas, workers who are injured in forklift accidents may be covered by an employer's worker's compensation policy. However, any negligent third party found to have contributed to the accident may be held liable. Be sure you have the proper representation when facing an employer or a third party contractor. Reach out to an experienced Houston forklift accident lawyers at Craft Law Firm today.