Free Case Evaluation
Houston Vehicle Fire Lawyer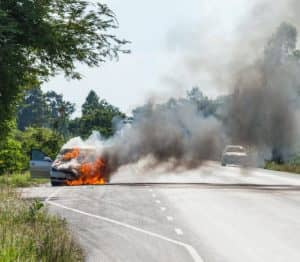 According to the U.S. Fire Administration, an estimated 171,500 highway vehicle fires occur in the United States every year, resulting in an average of 345 deaths. Vehicle fires account for 13% of fires responded to by fire departments across the country. Sixty percent of fatal vehicle fires are the result of a collision. When someone is injured in this type of incident, a Houston vehicle fire lawyer should be contacted.
Causes of Vehicle Fires
Car collisions can be catastrophic enough on their own; however, many result in vehicle fires, which can lead to further injuries or even death. A vehicle fire can be caused by many factors, including defective design or manufacturing. The vehicle's fuel system may be defective, which can lead to fuel releases after crashes. The released fuel can then be ignited, causing a fire or explosion.
Vehicles can carry a significant amount of flammable fuel in their gas tanks, up to 35 gallons in the case of a pickup truck or SUV. Heavy trucks, 18-wheelers, and other large vehicles can carry even more petroleum. Fuel can produce a serious explosion when ignited.
When a vehicle fire happens, it can be instant and devastating. In most car accidents, occupants are encouraged to remain in the vehicle so they don't aggravate their injuries. However, if the fuel system is compromised, a fire or explosion can occur during this time. The resulting burn injuries can be devastating or even deadly.
Houston Vehicle Fire Lawyer
If you or a loved one has been injured or killed in a vehicle fire, you have a limited time to act. It is essential to hire an experienced attorney who can determine the cause of the vehicle fire in order to get you the compensation you deserve. The automotive products liability lawyers of Craft Law Firm have successfully handled cases involving car, motorcycle, bus, van, and other motor vehicle defects across the country, so contact us today.